Beijing - In October 2003, ART SEASONS located its largest branch in Beijing. It was among the first galleries to open in what is now known as the 798 Art District.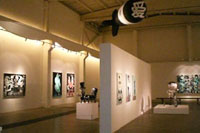 These 1950s Bauhaus style buildings provided a contemporary and edgy feel to this must see part of Beijing. ART SEASONS Beijing, occupies a space of over 700 square meters in a well-preserved Eastern German factory. ART SEASONS Beijing was charged with large-scale experimental art exhibitions, such as the legendary group exhibition "Hua Jia Di" in 2004, Xiang Jing first Solo Show in 2005 and German photo-artist, Stephan Kaluza's show in March 2007. Many emerging and top artists has since shown in ART SEASONS Beijing; Zhang Xiaogang, Xiang Jing, Zhu Wei, Li Songsong, Zhang Peng, Miao Xiaochun, Jia Aili and many others.
Contemporary Chinese art is a vast and exciting field and ART SEASONS has established a reputation for discovering and promoting talented, emerging Chinese artists with great potential thus enhancing their artistic influence and success. ART SEASONS Beijing still carries the important task of discovering, unearthing, exhibiting and promoting new artistic talents from China.